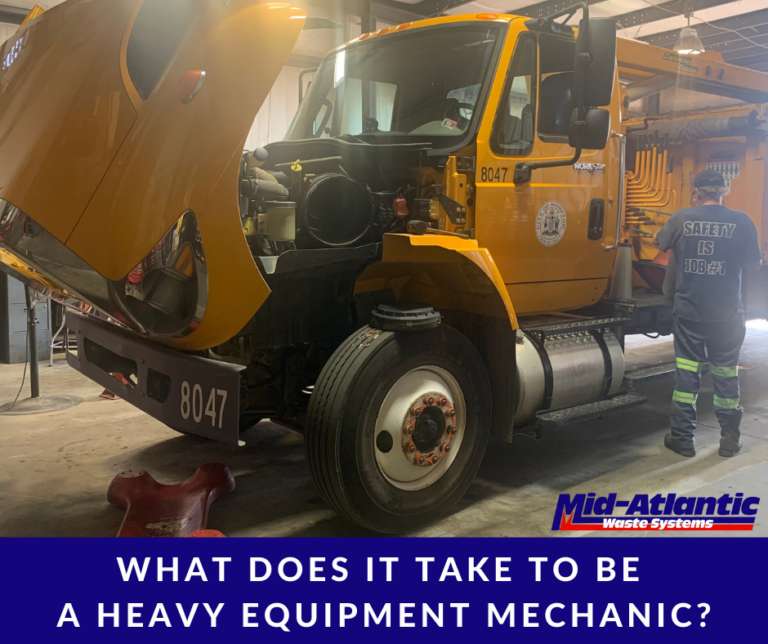 Along with other specialized trade positions, Heavy Equipment Mechanics are in high demand across America. A major cause for this demand is that the industry is having difficulty replacing retiring Baby Boomer mechanics with new mechanics. "Baby Boomers makeup 40-50% of the heavy-duty truck technicians active today and will retire between now and 2030. The demand for mechanics is expected to grow 12% from 2014 to 2024, a pace that is faster than the average for all other occupations." (Tire Business, 3/13/20)
The most successful Heavy Duty Mechanics possess the following skills:
– Physical strength – the equipment is large and so are the parts
– Manual dexterity – skillful use of hands is vital to being able to manipulate different tools and objects
– Attention to detail – this is extremely important when carrying out an inspection and testing, as well as making sure to properly document the work performed on each piece of equipment
– Mechanical and mathematical aptitude
– Good work ethic and a positive attitude
– Safety-consciousness – this is paramount due to the size, weight, and power of the equipment involved
Read on to learn more about education and training needed, what job duties a Heavy Equipment Mechanic performs and what type of equipment they work on.
Education and training can vary for this position but you must have a high school diploma or GED. Many employers and manufacturers provide continual on-the-job training, and a post-secondary specialization in diesel technology, heavy equipment mechanics, or small engine repair from a technical school or community college may also be needed.
So, what does a Heavy Equipment Mechanic do? In a nutshell, they overhaul, repair, and service heavy equipment. The mechanic will diagnose and determine the problem or issue and will repair and service the mechanical, hydraulic, structural systems, and other key components of the equipment. Heavy Equipment Mechanics will also perform equipment maintenance, preventative maintenance, as well as emergency breakdown repairs and parts replacement.
Heavy Equipment Mechanics work on heavy-duty machines and vehicles used in transportation, construction, or farming industries. Examples include semi-trucks, refuse trucks, service cranes, street sweepers, sewer inspection and underground equipment, compactors and balers, roll-off trucks, dump trucks, front-end loaders, rear loaders, knuckle-boom trucks, and more.
Are you at the start of your career or are you looking to make a career change? Do you possess these skills? Then maybe this is the career path for you! Mid-Atlantic is adding to our team and we're looking for Heavy Equipment Mechanics. Learn more about us and our current career opportunities here.