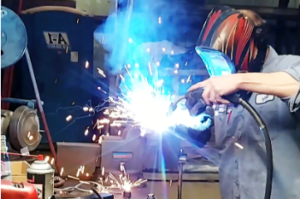 Since 1996, the American Welding Society has designated April as National Welding Month to bring awareness to the welding industry and its available career paths. Welding is essential to modern-day life, supporting vital infrastructures such as the transportation, construction, aviation, and energy sectors. National Welding Month is an opportunity to celebrate the vast and diverse welding community, acknowledge the importance of welding professions, and encourage prospective welders to pursue this fulfilling career path. This year's theme, "Be Part of The Future of Welding," emphasizes the crucial role welding will continue to play in shaping the world of tomorrow.
Welding is a dynamic field continually evolving to meet the demands of modern-day life. Technological advancements have transformed the welding industry, bringing new techniques and equipment to streamline the process, increase efficiency, and improve welding quality. Welders use their skills to shape everything from the bridges and buildings we inhabit to the heavy trucks, cars, and airplanes that transport us.
Welding is a fulfilling and rewarding career with many opportunities for growth and personal development. Mid-Atlantic Waste is always searching for talented welders to join our team. To learn more about MAWS and how you can get on the road to career success, check out our Careers page.