We've been busy at MAWS this Spring! Along with ensuring our customers are receiving the top-notch equipment, parts, and service they deserve, we have supported our team members through specialized training and career growth opportunities, attended industry events to stay up to date on the latest trends in our industry, participated in a variety of community activities, gave back by sponsoring local community events, while helping people get on the road to success with MAWS at job fairs. Keep reading to find out more about what we've been up to lately!
Employee Training
At MAWS, we prioritize the growth and potential of our employees. That's why our HR Generalist, Caroline Bohn, attended the Associated Equipment Distributors Financial/HR Symposium in San Jose, CA last week as part of our ongoing employee training program. This annual symposium is sponsored by AED and provides HR and Finance professionals with the opportunity to connect with others in the industry.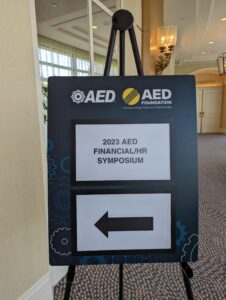 Our commitment to employee training extends to our technicians as well. Recently, our service technicians and sales team members from Clinton, Chesapeake, Pittsburgh, and Easton completed training on the VACALL AJV Unit at our Clinton, MD location. This ongoing training ensures that our team is equipped with the latest knowledge and skills to provide top-notch service to our customers.

MAWS On the Road – Industry Trade Shows
Our MAWS Team Members recently attended Waste360's Waste Expo – the premier event for solid waste, recycling, and organics industry professionals. Bringing together exhibitors and industry experts from all over, Waste Expo is the platform of choice to network, exchange ideas, and stay informed of current trends and innovations in this dynamic field. Attendees had the opportunity to preview the latest vehicles, take deep dives into the newest technology, and participate in cutting-edge curriculum sessions aimed at improving the environment.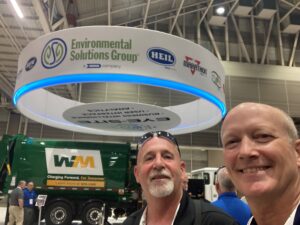 Carl H., Demo Driver, and CEO Jamie Varner visit the Heil Environmental booth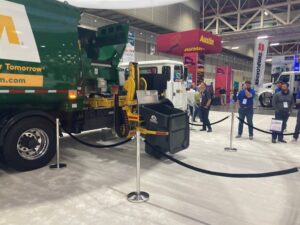 Heil demoed the new RevAMP all-electric side loader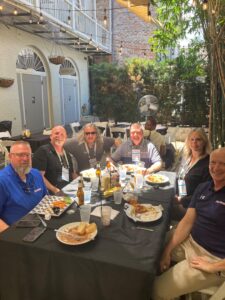 MAWS Waste Expo participants (clockwise from lower left): Jim Martin (Salem Regional Sales Manager), Carl H., Dennis Velez (Northern VA Regional Sales Manager), Joe Lindsey (Maryland Regional Sales Manager) and his wife, and Jamie Varner.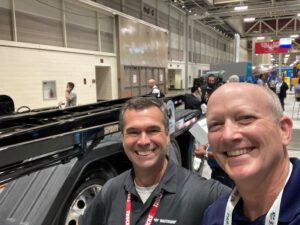 Pat Calloway (MAWS Manufacturer's Rep) and Jamie Varner at the Galbreath/Wastequip Booth
Join MAWS as we sponsor and exhibit at the MRN/SWANA Mid-Atlantic Annual Conference on June 12th at Turf Valley Conference Center in Ellicott City, MD. Together with industry thought leaders, we'll discuss actionable ways to improve our environment and waste management practices beyond 2023. Get insider knowledge on the latest trends and hottest topics at the technical sessions focused on waste management and recycling. Visit our booth at the vendor show and get an exclusive look at our latest equipment. See you there!
Community Events
Hardworking MAWS Team members Hunter P., Jim G., and Norm E. recently set up compactors for WM Chesapeake at the Something in the Water Music Festival in Virginia Beach in late April. With "Pharrell's Phriends" in mind, they ensured that everything was executed to perfection.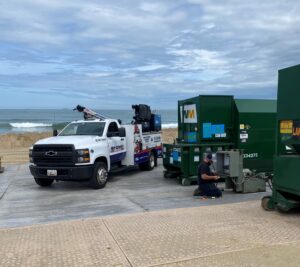 But that's not all the MAWS team has been up to. We provided vehicles for the SWANA Rodeo at the Cecil County, MD Landfill in mid-May. Among the impressive display were a brand new Heil Environmental 5000, an Auto Crane Service Truck with Vanair Manufacturing Inc. Compressor, and a VACALL Sewer Truck.

MAWS Gives Back
Here at Mid-Atlantic Waste Systems, we strongly believe in giving back to our community. It's a core part of who we are and what we stand for. We know that supporting local events and activities can make a real difference and create positive change.
That's why we're excited to announce our sponsorship of the Chesapeake Bay Maritime Museum's Education Professionals Gratitude Day. This special event, taking place on June 23, 2023, is all about recognizing and celebrating the hard work, dedication, and leadership of education professionals.
Held during Teacher Appreciation Week, this event promises to be a fantastic day of music, hands-on activities, shaved ice treats, swag bags, and more. We're honored to be a part of it and can't wait to show our support for the incredible educators who do so much for our community.

Job Fairs & Hiring Events
Join the MAWS team at our upcoming hiring events! Our Human Resources Team recently attended six events and we're adding more to the list. Check out our schedule.
We're dedicated to finding talented individuals, like those we met at the Cecil County School of Technology Job Fair. Our New Castle Branch Manager, Rich Weinstein, was there to share his experience working at MAWS and connect with potential team members.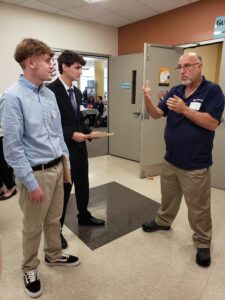 Spring at MAWS has been a season of growth and giving back! We've provided our team with essential training classes, attended industry events to stay up to date, invested in the community through attending and sponsoring local activities, and attended job fairs that can help give talented individuals the opportunity they need for success. Stay tuned for what we're up to next!