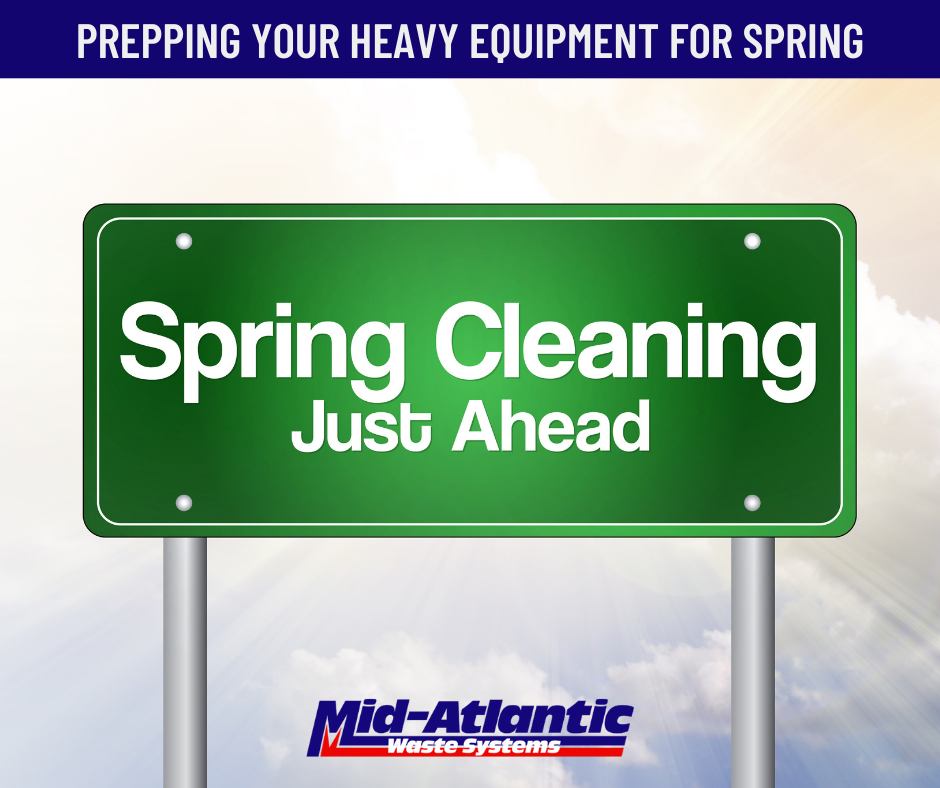 Winter is a tough time of year for many reasons. If your business relies on heavy equipment, cold winter temperatures, inclement weather and moisture can take quite a toll. Low temperatures can cause metal to contract and expand or change shape. This can cause cracks, seals to break and fluids to freeze. Ice and hail can damage the exterior as well.
By taking the time to do some spring cleaning and regular maintenance, as well as record-keeping, to make sure your equipment has the proper care and attention it needs, you can keep your equipment running smoothly, help prevent breakdowns and prolong the life of your machines.
Spring is the perfect time to prepare your equipment for a smooth transition into a busy work season.
Keep It Clean
You work hard and so does your heavy equipment. Because of the grease used to keep parts moving smoothly, your equipment picks up far more dirt and debris then can be seen on the outside. Dirty equipment can break down more often and lead to expensive repairs. When your equipment is off the road and in the shop, it's not making you money. Equipment that is free of dirt and debris is key.
An Ounce of Prevention
Having heavy equipment represents a huge investment for your company and it's in the companies best interest to protect that investment. It just makes sense that well-maintained equipment works better. Regular and preventative maintenance goes a long way to keep your equipment up and running.
Perform regular maintenance tasks such as changing filters, changing hydraulic and engine oil, checking coolant, greasing components, cleaning the exterior and the interior.
Make sure you check your lights, flashers, and wipers, as well as brakes, belts, hoses, clamps, seals, tires and battery. Don't skip this step because you think you're too busy to take the time to do it. This could be a costly mistake that could result in significant downtime.
Safety First
Poor maintenance can lead to significant safety issues such as fire hazards or operating malfunctions. Equipment that is working properly is safer for your employees and your customers.
Mid-Atlantic is here for all your equipment repair and fleet maintenance, including preventative maintenance, needs. We have ways to help you enhance every aspect of your operation so you can work smarter and more efficiently.
Mid-Atlantic Waste is dedicated to extending the life of your equipment by offering top-notch fleet maintenance and heavy truck service.