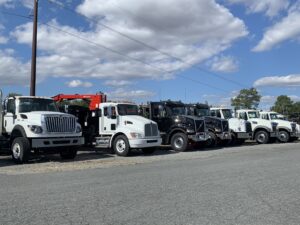 You are ready to expand your fleet, but buying used heavy equipment can feel like an overwhelming task.
Some surefire tips that can make the whole process seamless. Due diligence is important. Putting in the work before the purchase will help ensure that your investment is the right one for you. Your goal is to purchase heavy equipment that will work hard for you and your customers for many years.
Consulting with a heavy equipment specialist, such as Mid-Atlantic Waste Systems, will help you determine the right kind of equipment you need.
To ensure you get a piece of equipment that meets your needs, it is essential, to be honest with your equipment dealer. If you communicate what you are looking for, your equipment dealer will be able to assess if the equipment you are looking to buy is a good fit for your business.
Be sure to inspect the equipment before purchasing.
Checking such vital things as operating hours, fluids, engine exhaust, maintenance history, and noting signs of wear and tear will prove invaluable. If you do not have heavy equipment knowledge, have a qualified mechanic perform a physical and functional inspection on your behalf.
Try before you buy.
If your preliminary inspection is satisfactory, and the equipment appears well-maintained and cared for, the next step is to take it for a test drive. There is only so much information you can gather until you get hands-on experience with the machine.
Buy from a reputable seller.
It is best to look for equipment from companies that specialize in buying and renting new and used heavy equipment. The company you are purchasing from should provide service records and answer detailed questions regarding what maintenance has been performed on the machine.
Do not rush into it.
When it comes to buying heavy equipment, the worst thing you can do is rush the process and make a decision that you regret. Take your time and explore all your options so that you are confident in your choice.
With over 37 years of experience, industry knowledge, and commitment to customer service, Mid-Atlantic is your new and used heavy equipment specialist.
MAWS is proud to partner with the top manufacturers in the country to provide our customers with superior waste equipment and heavy trucks to meet our customers' every need.