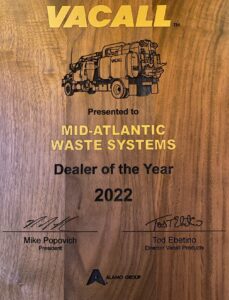 At this year's AED Summit in Chicago, Mid-Atlantic Waste Systems was presented the prestigious Dealer of the Year Award from Vacall Products.
Tod Ebetino, Director of Vacall, presented Jamie Varner, MAWS CEO, and Fred Seitz, MAWS Director of Sales, the award recognizing their commitment to delivering exceptional service as a Vacall partner.
"Thanks for recognizing Mid-Atlantic as Vacall's Dealer of the Year! We are committed to continually improving the value we provide to our customers and manufacturer partners, and have a lot of exciting things in the works for 2023 to advance this effort," states Jamie Varner, CEO of Mid-Atlantic Waste Systems.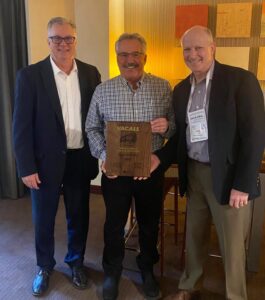 Pictured left to right: Tod Ebetino, Fred Seitz, Jamie Varner
About AED & the AED Summit
Associated Equipment Distributors (AED) serve as a valuable resource for machinery dealers around the globe. They're dedicated to supporting the heavy equipment market by helping businesses make connections and stay up to date on the latest industry news.
The AED Summit is the only event dedicated to the equipment distribution industry and is the only industry event that brings together equipment distributors, manufacturers, and service providers under one roof.
About Vacall
Manufactured in America to the highest American quality standards, Vacall machines are built for hard work and long machine life. Backed by the Gradall brand, a name well-known and respected by governments and contractors worldwide.
Vacall delivers a host of features and options, such as lifetime warranties on the aluminum water tanks and optional galvanized debris tanks with a special finish, designed to efficiently and cost-effectively clear and maintain sewer lines, hydro-excavate, sweep, and clean catch basins.
If you're in the market for Vacall sewer or underground infrastructure equipment, find your local MAWS rep to get started.
About MAWS
For almost four decades, Mid-Atlantic Waste Systems has earned its reputation as a leading provider of waste and heavy equipment service. Since 1985 we've provided premium new and used sales, service, and parts, as well as fleet maintenance to help our customers stay on the road and grow their businesses.
Our comprehensive inventory features refuse trucks; sewer and underground infrastructure equipment; street sweepers; compactors and balers from top manufacturers such as Vacall, Heil, Auto Crane, Tymco, Galbreath, PACMAC, and more. When your business depends on quality heavy equipment look no further than Mid-Atlantic Waste Systems.