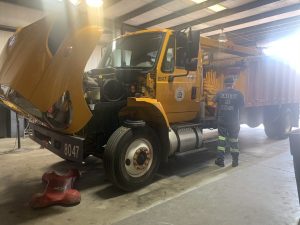 MAWS is proud to announce our new Rent A Tech Program! This program provides our customers with both short-term and long-term shop assistance to help fill any gaps if they are experiencing a staffing shortage, for whatever reason.
What Is The Rent A Tech Program?
The Rent A Tech Program operates both day and night, helping with anything from evening shift PM programs or day-to-day fleet repair. Our technicians will come to you! MAWS will assemble the right team to assist our customers with any issues. Our experienced, on-site technicians can also help train new and current employees for any jobs they may not feel comfortable tackling on their own.
This program is also available for our customers to utilize during times of lower staffing, such as the holidays when internal technicians may be on vacation.
Current Customers Utilizing the Rent A Tech Program
This program is already in operation with some MAWS customers, such as GFL and Waste Management. MAWS Rent A Techs perform all of their evening PMs, which has allowed them to stay on top of their preventative maintenance.
We have two technicians helping the City of Virginia Beach while they are in the process of hiring their internal team, and we have a full-time technician under contract to the City of Hampton for the next three years.
Think This Program Can Help Your Business?
Contact MAWS to learn more about the Rent A Tech Program and how it can help your business stay on track, day and night, for as long as you need.