HEIL HALF/PACK FRONT LOAD GARBAGE TRUCK
Category: Refuse Trucks
Type: Front Loader
Manufacturer: Heil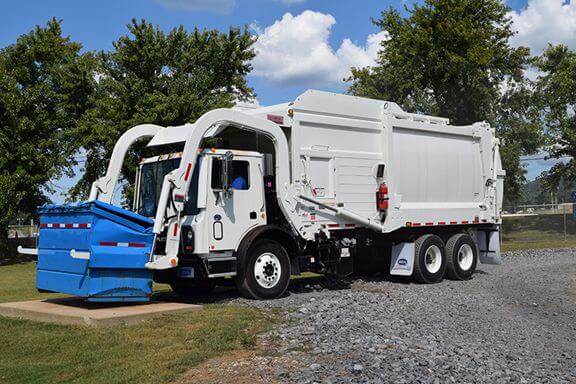 The Heil Half/Pack® Front Load Garbage Truck is a commercial front end loader that is well-known for its durability and dependability. It has been Heil's most popular front loader refuse truck for over 30 years. This consistent performer undergoes continual improvement with a number of unique innovations. Patented Odyssey technology from Heil provides you with enhanced features that increase productivity and lower the Total Cost of Ownership (TCO).
The Heil Half/Pack® Front Load Garbage Truck consistently delivers proven performance in the most highly demanding environments, allowing it to earn a loyal following of users who can fully trust and rely on its unequaled dependability and lower total cost of ownership.
Built for for a long, reliable lifespan and designed specifically to withstand the harshness of daily use in the toughest environments, the Heil Half/Pack® Front Load Garbage Truck is offered in several different configurations in a choice of 20, 23 28 and 32 cubic yard body capacities. Heil sets the standard for front loader refuse trucks with evolutionary and innovative new features that enhance functionality. Heil Half-Pack Front Loaders most distinguishing features are:
3-inch Sump Drain Valve
Clamp-on Arms
Double-Walled Hopper
Patented Shur-Lock™ Tailgate Locks
Lifting capability of 8,000 lbs.
11+ tons of payload
The Heil Half/Pack® Front Load Garbage Truck also offers:
Strong Foundation — The Half/Pack offers exceptional durability, extended lifespan and excellent resale value due to its interlaced subframe.
Less Time in the Shop — If your Half/Pack is in the shop, it's not making you any money. Heil's Service Smart™ design makes routine maintenance a breeze and keeps you serving your customers.
On-board Diagnostic Tools — Quickly and easily troubleshoot problems without dealing with outside hazards and weather.
Protected Packing Cylinders — Packing cylinders are protected by 35-gallon sumps that control and store liquid waste and refuse that spills over the packer blade to minimize corrosion.
Easily Accessible Components — Easy access to critical components directly behind-the-cab reduces maintenance expenses and time not-in-service.
Advanced Filtration — Heil's 3-micron filtration system is superior to other manufacturers 10-micron filtration and keeps the engine running cleaner and provides extended life of hydraulic components.
Long-lasting Proximity Switches — Half/Pack high quality proximity switches are designed to reduce the need for regular readjustment or replacement.
Quiet Operation — Operate-in-Gear-at-Idle option reduces wear and tear on Half/Pack's drive train components.
Single Axle Model — Half/Pack offers a single axle configuration to improve maneuverability and durability on rough city streets.
Heil is not only known for engineering and manufacturing outstanding refuse trucks. They stand by their front load trash trucks with a century-old heritage of commitment to customer satisfaction and a worldwide network of knowledgeable dealers and service centers, as well as the industry's first dedicated manufacturer-based training facility and mobile training centers, to help you keep your equipment operating at its peak. You can feel certain that when you choose a Heil Half/Pack® Front Load Garbage Truck, you are getting the most productive, durable, safe, and easy to maintain front loader available.